Dairy & Beef Cattle
Our experienced team of cattle and mixed practice vets provide ambulatory emergency care 24 hours a day for dairy and beef cattle farmers across the Scottsdale area. We pride ourselves on our preventative medicine focus, and our vets are encouraged to develop an in depth understanding our our clients' farming operations so that they become an integral part of the farm's management team.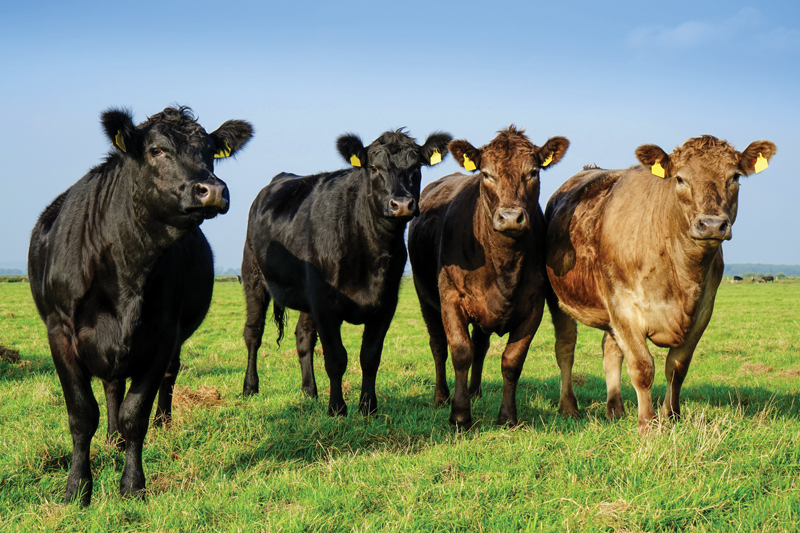 Calving Cows
The normal gestation length of a cow can range from 279 – 288 days.
The normal progression of the calving process involves 3 stages of labour.
First Stage
The 1st stage is when the cervix is starting to dilate and uterine contractions become regular. This leads to signs of discomfort, mild colic and restlessness. The cow will show this by getting up and down frequently, standing with an arched back, holding her tail raised and may have increased heart rate and respiratory rate.
Second Stage
The 2nd stage begins with the onset of abdominal contractions and rupture of foetal membranes, often seen as fluid spilling from the vagina. This stage ends when the foetus is born. The average duration of second stage labour is 70 minutes but can range from 30 minutes to 4 hours. This stage of labour is normally longer in heifers than in cows.
Consult your veterinarian if:
A cow close to her expected calving date has been restless for 12 hours (ie possibly in 1st stage labour) with no signs of straining.
A cow has been straining (ie in 2nd stage labour) for 1 hour without progress.
Third Stage
The 3rd stage of labour begins once the calf is born and ends when foetal membranes have been passed, in a cow this may last a couple of days.
There are many different causes for a cow not to make progress during calving such as a malpresented or oversized calf, foetal deformity, uterine torsion, or the cow's inability to push. Our veterinarians are well trained to identify the problem, and provide the appropriate solution for you and your animal.
Resources
Calving Cows Program
Apiam Animal Health's Calving Cows program:
Identifies risks in key management areas
Provides tailored farm medicine advice
Establishes specific written treatment protocols
Provides training for common periparturient diseases and perinatal conditions.
Flying Start Calf Management Program
Successful calf rearing requires attention to detail and balance across all the specific areas of a calf rearing system. Recognising this is the first step to ensure your calves stay healthy, grow well and reach their full genetic potential. There are no two herds the same and as a result, blanket recommendations are not always appropriate or relevant to your individual situation. The Flying Start Calf Management Program provides basic fundamental principles in each specific calf rearing area, to help lay the foundations for successfully rearing calves.
Areas covered are:
Pre-Calving Care
Colostrum Management
Health Management
Environment
Nutrition and Weaning
Cattle Reproduction
Scottsdale Veterinary Services have accredited In Calf advisors to assist you with your dairy cattle reproductive needs.Whether you are a seasonally calving herd, split calving, or all year round, we can help you to optimise your reproduction with the following services.
Pregnancy testing is critical to any reproductive management program. Scottsdale have ACV accredited preg testers. We usually use two or more of our vets for large herds and can even arrange to do large herds at milking time if the facilities allow it.
Manual rectal palpation
Manual rectal  palpation can be used on any stage of pregnancy over 6 weeks. The accuracy of manual preg testing for dating is best in the early stages of pregnancy under 4 months (16 weeks), rather than in the later stages of pregnancy. Accuracy for detecting whether an animal is pregnant or not over the stage of 6 weeks is 100%.​​
Ultrasound pregnancy testing
We have 2 types of rectal probe ultrasound machines. We mainly use the ultrasound to diagnose pregnancies from 5 to 16 weeks and the accuracy is high, but it can also be used to diagnose pregnancies at any stage fairly quickly if you only require a yes/no result. We check all our negative results manually to ensure no pregnancy is missed. In fat or deep cows it is sometimes difficult to view or date the pregnancy.
30 – 35 days pregnant ultrasound scans
We have two scanners for detecting early 30 to 35 days pregnancy scans. By scanning cows at this early stage of pregnancy, we can detect cows that are not in calf and re-submit them for service, thus altering/increasing the outcome of the number of pregnancies in your mating.
Computerised Data Analysis
Scottsdale Veterinary Services has a computer program to record, analyse and report all your reproductive data. We can analyse reproductive indices and give advice to increase your herd fertility as a result. If you have your own software, we can download files and information from you and do the same.
Fertility Investigations
Herd Fertility investigations can be done retrospectively with our computer program once we gather the right information.
Mating Programs
After consultation with you we can formulate programs to suit your needs with regards to setting up a mating program to optimise your individual herd requirements.
Non Cycling Cows
There are many programs to treat non-cycling cows and once again, we can formulate a plan that suits you and your herd after consultation.
How accurate is pregnancy testing?
As long as the cow is far enough in calf, we can tell you if the cow is pregnant or not.
Why pregnancy test early?
Whilst we can tell you yes (pregnant) or no (not pregnant or empty) later on, to efficiently run your dairy farm, you need to know what stage of gestation the cows are.
The further in calf a cow, the harder it is to be accurate about how far pregnant she is:
> From 6 to 16 weeks of pregnancy we are very accurate.
> Above 16 weeks, the accuracy is reduced.
When should I pregnancy test my herd?
To get the most information try to present cows for preg testing when they are between 6 and 16 weeks pregnant.
The minimum number of preg. tests should be:
> Test 6 to 7 weeks after the end of AI.
> Test 6 to 7 weeks after the bull is removed.
What can I do to help with pregnancy testing?
Good facilities are quicker, safer and less stressful. Talk to us about the design of a vet (AI) race or stand for a rotary if you do not have one.
A list of AI dates converted to the number of weeks pregnant at the time of preg testing optimizes pregnancy testing accuracy. Cow identification needs to be accurate, easy to read, not have 2 or more cows with the same identification and not have cows with no identification.
The pregnancy testing results need to be recorded accurately. Recording results is not an easy job – the person doing that job cannot do other jobs. If the cow identification is difficult to read, then the recorders job is more difficult. If you do not have a spare person to record results, let us know and we can bring an extra person to record.
How can I make use of my preg test results?
As well as deciding empty cows, knowing when cows are going to calve lets you plan for the next season.
Some things you do with your information include:
Planning inductions
Inducing late cows 10-12 weeks prior to their expected calving dates gives the best chance of bringing these cows in line with those calving to A.I. and therefore tightening up the calving period.
Cull empty cows 
Knowing how many empty cows you have allows you to calculate how many other cows you can afford to cull.
Formulate a feed budget
A feed budget is an accurate assessment of the herd's future feed requirements compared to feed availability. An accurate predicted calving pattern is required for the calculation of a feed budget.
Benchmark your Results
You have spent a lot of money on joining your cows – how do your results compare? A danger in talking about figures with other farmers is that you are often comparing apples with oranges. For example comparing how many empty cows you have compared to another farm is meaningless, if you joined for 10 weeks and they joined for 20 weeks.
Bull Fertility
We have a fully mobile operation serving Scottsdale and the surrounding area. We recommend to our farmers that they get their bulls tested prior to sale/purchase and/or joining with the herd each year. We carry out a comprehensive Bull Breeding Soundness Examination aimed at finding sub-fertile bulls.
Bull Breeding Soundness Examination
This includes:
Full physical examination
Reproductive examination
Gait assessment
Crush side semen evaluation
External laboratory assessment of semen morphology by an industry assessed morphologist.
Ear notch testing for Pesti-virus (BVDV) – optional
We conduct bull testing with modern up to date techniques and equipment obtaining accurate results for you.
We use and automatic 'Pulsator IV', which has been imported from the USA. This allows us to carry out efficient and low stress bull testing.
Results are given using industry recommended 'Bull Reporter II' software for producing bull breeding soundness examination certificates.
Why do we recommend morphology?
Crush side semen evaluation looks at the sperm's mass activity and progressive motility. Can the sperm get to the egg? Morphology looks at the structure of the sperm and its ability to produce an embryo. Can the sperm produce a pregnancy? There's a lot that can go wrong with both the manufacture of sperm and its maturation process in the testes. Recent research shows us why it's essential to include morphology as part of a breeding soundness examination.
In 2011/12, all bulls from sixteen dairy herds in Northwest Tasmania were subject to a veterinary breeding soundness examination and the results, which were published in 2013 at the Australian Cattle Vets conference, are astonishing.
221 bulls were tested as part of the research project. 52 (23.5%) were assessed as a fail or high risk and would not be suitable for joining in that period. A further 58 (26.2%) of the bulls were given a qualified pass with stipulations not to be used in single sire mating situations. The conclusion from this was that 110 (49.8%) of the bulls tested were considered at risk of being sub-fertile.
It is certain that the majority of the risk factors in these bulls would only show up on an examination that includes physical examination, crush side semen examination and sperm morphology. In fact, semen crush side examination and morphology accounted for over 70% of the risk factors.
If you are interested in a Bull Breeding Soundness Examination for your bulls or you would like more information, please contact us at the clinic.
Veterinary Calf Disbudding
Scottsdale Veterinary Services' stress and pain free procedure for disbudding calves.
The process is designed to allow easier disbudding whilst maintaining animal welfare.
We can reduce the pain, discomfort and other negative health impacts from the dehorning process.
This is achieved by the administration of general sedation and then local anaesthetic to the horn base, this in turn allows us to complete the job consistently and efficiently.
Recent studies have found that calves receiving heavy sedation/pain relief and local anaesthetic prior to Veterinary disbudding will have improved growth rates and appetites in the two weeks following disbudding.
Veterinary disbudding with sedation and local anaesthetic, results in an average of 1.4kg greater growth over the 2 week period following disbudding (this is a 17% increase in growth rate over the period).
The Service
Heavy sedation/pain relief
Local anaesthetic disbudding
Antibiotic protection
Hernia checks
Removal of extra teats
Preparation
The following guidelines are essential to providing the most effective stress and pain free disbudding process:
Calves must be older than 2 weeks of age to handle the sedation that is administered.
Do NOT feed the calves for 3 Hours prior to the disbudding, to avoid bloating, choking and aspiration of food.
Sick Calves should have disbudding delayed.
Disbudding can be scheduled for Lunch time or afternoon bookings as well as in the morning.
Calves that are on once daily feeds can be fed in the morning and then disbudded later in the same day.
Calves should be monitored post disbudding to ensure full recovery from the procedure.
Temperature Regulation:
The sedation we use makes it more difficult for the calves to regulate their own body temperature. This makes them more susceptible to over heating on hot days and becoming too cold on cold days.
Delayed Wake Up:
On completion of the job the vet will assess the calves for alertness and treat accordingly. If calves are still unresponsive 2-3 hours after disbudding then please contact us.
Feeding:
As calves have been off milk for some time we would like to feed them approx 2 hours after the completion of procedure.
Hernias & Extra Teats:
Calves with hernias or extra teats will be identified and treated accordingly at the time of disbudding.
Correct Weight
Scottsdale Veterinary Services provides several herd performance programs to help farmers improve productivity and performance on farm. Correct Weight follows on from the Flying Start program to help manage appropriate growth of your heifers in order to improve reproductive efficiency and milk production when they enter the milking herd.
The program entails 5 weighing visits usually about 2 months apart starting from when heifers are weaned and finishing prior to start of mating. Prior to each weigh events a bulk faecal egg count is carried out on each group to facilitate selective worming practices on farm. Following each weigh event you will receive a comprehensive data analysis and report detailing how the groups are performing and how you can improve practices in the coming months to ensure your heifers are growing appropriately to reach industry target weights for their breed. If you have any further enquiries, please call and speak to one of our dairy vets.
Correct Weight is a package that will guide you in the profitable management of heifers from weaning to joining by providing:
Regular weighing
Worm monitoring
Nutritional and animal health advice
Take the stress out of your heifer management!
Proactive management and early intervention improves chances of having a healthy and productive animal enter the herd
Benefits of Correct Weight
Improved fertility (bigger heifers get in calf earlier)
Increased longevity (they live longer!)
Reduced calving problems
Higher production – 50kg heavier at calving results in 1041 litres extra milk over 3 lactations
Smarter drenching using FEC results – saves money on drench and reduces worm resistance
Confidence that heifers are protected from disease by up-to-date vaccination
Expert joining advice available on request
Additional animal health monitoring and treatment beyond the package are available on request.
Lameness
 Lameness can result in reduced fertility, higher culling percentages, increasing treatment costs, loss of milk production and growth reduction. Lameness is also recognised as being the biggest welfare concern affecting dairy cattle worldwide.
Recent workshops run by Dairy Australia have been aimed at highlighting the welfare issues and economic impact that lameness can have on your herd. At Scottsdale Veterinary Services we have vets who are trained and specifically interested in cattle lameness who work in conjunction with Dairy Australia to offer you the most up to date advice on the management of lameness in your herd.
We provide services including but not limited to:
Individual cow lameness consults
Reducing the incidence of lameness
Advice on the impact of lameness on your herd
Advice on how to treat lameness safely and effectively.
Contact a dairy vet at Scottsdale Veterinary Services to find out how we can help with your lameness issues.